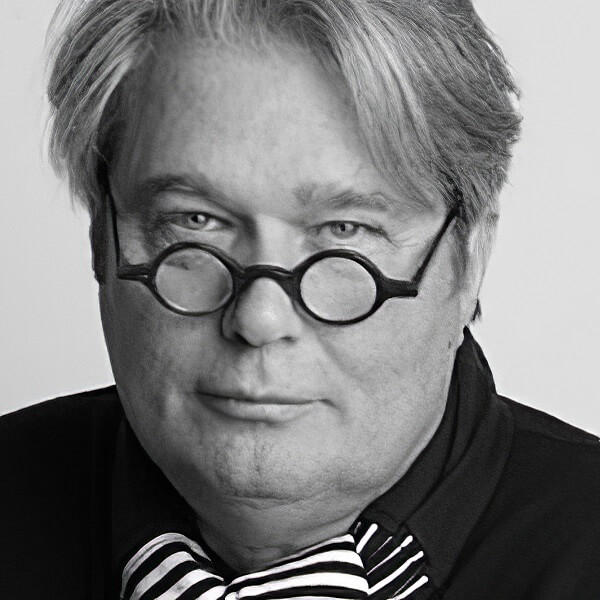 Michael Vanderbyl is a multidisciplinary designer based in the San Francisco Bay Area. Vanderbyl received a Bachelor of Fine Arts in Graphic Design in 1968 from California College of Arts and Crafts. He has taught graphic design at CCA for more than 30 years and held the position of Dean of Design.
Vanderbyl was among the designers who in the early 1980s established the San Francisco Bay Area as a center of the postmodern movement in graphic design. He has gained international prominence in the design field as practitioner, educator, critic and advocate.
Since being established in San Francisco in 1973, his firm, Vanderbyl Design, has evolved into a multi-disciplinary studio with expertise in identity, print and digital communications, showrooms, interiors, furniture and product design. Clients have included Esprit, Baker Furniture, The Walt Disney Company, IBM, America One, Robert Talbott, Teknion, The Blackstone Group and Luna Textiles. He has designed products for McGuire Furniture, HBF, Esprit, Boyd Lighting, Bernhardt Furniture, and most recently Bolier.
Vanderbyl has been a member of the Alliance Graphique Internationale (AGI) since 1987. In 1997, he was one of I.D. Magazine's 'ID Forty' and received the Lifetime Achievement in Product Design by the Pacific Design Center. In 2000 Vanderbyl was awarded the medal of the American Institute of Graphic Arts (AIGA). He was the recipient of a Lifetime Achievement Award from the International Interior Design Association (IIDA) in 2006. In 2012, Vanderbyl was inducted into Interior Design's Hall of Fame. His work is in the permanent collections of the San Francisco Museum of Modern Art, the Denver Art Museum, the Cooper-Hewitt National Design Museum, and the Library of Congress.
"Design is about what it's saying, rather than a style or a trend. Good design answers the question before it is asked".